WHEN GOOD SOFTWARE GOES BAD
CNN reports on BAD Tech Support in Survey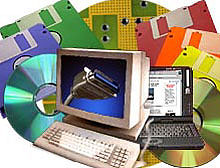 CNN Tech has a story on Consumer Reports "MATCH SURVEY," which shows widespread dissatisfaction with the level of service in software technical support.

"As a result, the magazine put software tech support among the lower-ranked services that it's rated in the last 10 years -- slightly worse than the customer support offered by cell phone carriers and just a little better than that provided by cable TV companies. "

Judging from my recent experiences with "AppleCare," I'm inclined to believe the survey is accurate.