VIRUS ALERT!
Paypal screensaver is actually a a new variant of the MiMail.I worm, and tries to steal your credit card info.

IF IT'S TUESDAY, THIS MUST BE CYBERSPACE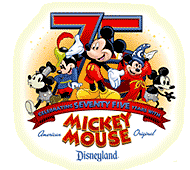 HAPPY 75th BIRTHDAY, MICKEY MOUSE!

TECH TUESDAY
Yahoo's Tech Tuesday focuses on the whistles and bells being dumped into cellphones these days. But is there a story on how to prevent those blocked calls? Hello? Am I missing something here? Is this thing on? Anyone? Anyone? Bueller? Bueller?



I WANT MY EDV?
The next generation DVD, called Enhanced Video Disc (EVD), is being embraced by the strangest benefactor. Claiming that royalty payments are eating into their profits, state owned Chinese electronics companies are developing EVD as a substitute. The move, though, may be for naught if Hollywood doesn't embrace the standard - and then you're back to square one again. Or are you? Having to enforce those nasty anti-piracy treaties don't help either.

POWER FAILURE
With the average college student bringing 18 electronic gadgets with them to school, Colleges are scrambling to support such a drain on their electrical grids, to the point of spending millions to upgrade them.

SPAM, WONDERFUL SPAM
This article recommends not ignoring spam, but ANSWERING IT. It seems that the economics of spam may prove to be the key to it's undoing.

LIFE IMITATES ART?
There's a scene in STAR WARS: CLONE WARS where ARC Troopers deploy a flying robotic camera platform to get a better look at the city from above. Now, EPSON has created the world's tiniest flying robot controlled via BLUETOOTH. If you put a few webcams on that puppy, you have the same thing.

THINKING DIFFERENT ...
... isn't always safe. Introducing: The iCar.

WHAT'S FAIR IS FAIR
Wired has a primer on what is, and is not "fair use."

CAN YOU DOWNLOAD ME NOW? GOOD!
PDA Online has a story about "over the air" (OTA) software transmission - thereby cutting the chord on synch cradles for PDAs.

THE FUTURE WAS NOW
MSNBC examines what happened to flying cars and jet packs and why aren't they here?!